Exciting Beginnings…
Our first church service was held on Sept 20, 1993, at Steve & Debbie's home in their basement. We began with 29 people (adults & children). These exciting beginnings of our group in the basement began the existence of Harvest Fellowship as a body of believers. We wanted to have fun. We wanted church to be fun. We wanted it to be about the people and not the organization.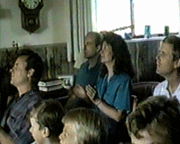 Quick Move… We saw quickly that the basement was too small, so by the next Sunday, Carolyn Roy had secured the Historical Church in Brighton on South Main Street. For over 3 months, we rented this building at $4.00 a week until we were at capacity (approximately 60 people!).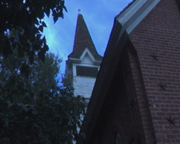 Building Up In Faith and Expectation…
With God's swiftness, we next secured a building located at 123 Main Street. Sounds generic, doesn't it? It was anything but a generic church. Hundreds of people came to know Christ in that building, located between the Brighton Blade and the Western Bar.Hundreds of people's lives were changed as we met there. It was mostly an adventure in how to do church, how to listen to God and how to love people! We were all amateurs at leading a church, but we were in love with God and His people and wanted to serve Him. Those days still live in our hearts as a life changing experience and the beginning of a great movement of God in our lives. We grew from 60 to 100 to 150 to 200 and had to find a new building again.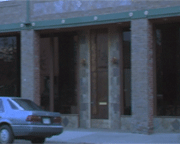 The Vision Became Greater and The Work Harder Yet…
In 1996, we were able to lease a vacant building owned by the school district (now the 27J Training Center). We occupied it on Easter of that year, with 400 people sitting and standing everywhere. We built a kitchen, classrooms, improved the building and remained there until September 2001.Those were the days of learning what it meant to be in the ministry. Hundreds more came to Christ and more lives were changed. But the work was hard. A few did most everything, while the majority just came to services. But before we left that building, God began to do a work in our hearts.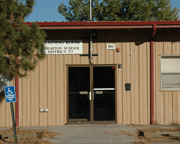 Vision and Power…
We had dreamed for some time about using the auditorium in Heritage Academy. It was not used for anything but storage, a weight room and a study hall. One day, after years of asking, we were permitted to use the Heritage auditorium for our services. As we moved into this auditorium, people began to take up the burdens. We began by creating and modifying the auditorium from an unusable room into a beautiful place to meet. The leaders began to give away the ministry to our people. People began to use their spiritual gifts and grow. The men of the church began taking responsibilities and the ministry of Harvest Fellowship began to soar to new heights. God has richly blessed us in the efforts to reach our community for Christ. And we will continue.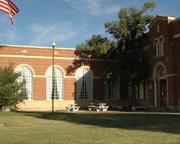 A New Work In Our Hearts…
We believed with all our hearts that it was time for our own home. We were praying for God's guidance in our desire to grow with Him and we needed the space to do it. After years of having our plot of land, it was finally time to build! It took several years of planning, researching, and revising but as we watched our building go up our excitement for a place to call home grew. On the weekend of March 28th & 29th, 2009 we held our very first services in our permanent home. Now we have an even greater venue through which to reach people for Jesus Christ!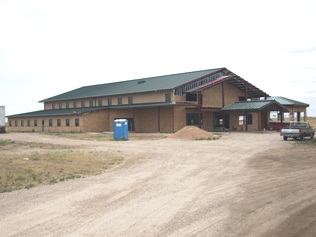 The ministry at Harvest has been a very important influence in the lives of our family members. We have attended since it began. Our children went through their teen years during these years, and all three have grown up to be committed to ministry within the churches that they now attend. We have witnessed a lot of highs and lows in our life with Harvest. It is amazing to see how God uses each experience to shape the church for His purpose. Rod & Susie R